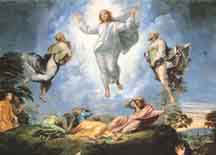 On the threshold of the Third Millennium of the Christian Era, and in celebration of the Jubilee of the Year of Our Lord 2000, from the Vatican, comes a new documentary series called IN THE FOOTSTEPS OF PETER. Through the wonders of modern technology, IN THE FOOTSTEPS OF PETER makes available to everyone the world's most spectacular and sacred repository of Art, History,and Faith; and in so doing illuminates and chronicles the great journey of the human spirit.
IN THE FOOTSTEPS OF PETER is the culmination of three years of research and filming, the collaboration of thirty-two scholars and historians from around the world, a crew of forty directors of photography, operators, and lighting technicians, state-of-the-art digital cinematography, lighting, animation, and computerized editing, and the work of a famous composer with original performances by master musicians. © 1995-96-97 Edizioni Musei Vaticani, Vatican City State Videocassette Design & Packaging: © 1997, Janson Video, Inc. Produced by the Edizioni Musei Vaticani Directed by Luca De Mata Original Music by Stelvio Cipriani Music copyright held by Edizioni Musei Vaticani, Bixio c.e.m.s.a. Scientific Direction by the Vatican Museums Scripts by Professor Carlo Pietrangeli, the Trappist Nuns of Vitorchiano, Pietro Amato, Fabrizio Bisconti, Francesco Buranelli, Mario Ferrazza, Paolo Liverani, Jozef Penkowski, Orazio Petrosillo, and Alessandra Uncini VOLUME I VOLUME II VOLUME III VOLUME IV VOLUME V VOLUME VI VOLUME VII VOLUME VIII Although a visit to Vatican City would be a wonderful experience, this ambitious and handsomely packaged 8-volume roam through the city's museums and buildings is a) much less expensive than a real trip, b) offers a guided tour, and c) uses supporting contextual footage not found in your Fodor (print) handbook. We watched the sixth volume, "The Ethnological Museum & The Picture Gallery", which featured a host of well-known (and lesser known) artworks chronicling, in essence, the pictorial history of Christianity, as well as a fascinating overview of religion in non-European cultures (examining death rites, conceptions of deities, and worship habits). As the program traces the early seeds of Christianity in these colonized countries, the artistic artifacts shown (initially, copies of European Christian symbolism) gradually give way to indigenous interpretations of Christianity. In one notable and symbolically complex example, we see a beautifully carved crucifix which depicts Christ bound to a cross comprised of African slaves. A thought-provoking series, this is sure to be quite popular in both academic and general collections. *** Stars - Video Librarian This series presents the Vatican's vast museum complex and collections To celebrate the new millennium, the Vatican commissioned this documentary series and gathered a large research and film crew. These eight videos present an extensive, rich visual catalog of the Vatican museums. ...larger academic libraries may want to consider this scenes for its comprehensiveness. - Library Journal On the threshold of the beginning of the Third Millennium of the Christian Era, and in celebration of the Jubilee of the Year of Our Lord 2000, from the Vatican comes a new documentary series of eight, 60 minute videos. Through the wonders of modern technology, IN THE FOOTSTEPS OF PETER makes available to everyone the world's most spectacular and sacred repository of Art, History and Faith, and in so doing illuminates and chronicles the great journey of the human spirit. The collaboration of 32 academics and historians from around the world combined with a crew of 40 directors of photography, operators, and lighting technicians, state-of-the-art digital cinematography, lighting, animation, and computerized editing--including the work of original performances by master musicians. This eight volume series showcases Roman,Etruscan, Greek, and Egyptian art in the various Vatican museums; the origins of Christian art and the Sistine Chapel; the Raphael Rooms. the Loggia and the Historical Museum at St.John Lateran; the Ethnological Museum and the Picture Gallery; the collection of modern religious art and the Apostolic Palace; and the Vatican City itself, including the Great Basilica. IN THE FOOTSTEPS OF PETER is an eight volume tour-de-force that will inform and dazzle the viewer. IN THE FOOTSTEPS OF PETER is especially recommended as a superb memorial fund acquisition for school or public library video collections. -Wisconsin Bookwatch I found it facinating and inspiring and a wonderful tool for telling the Gopel story through art. - Sr. Susan James Pualine Books & Media
8 VHS video, each video is 60 minute long, Price: $169.95
ISBN #1-56839-039-4 VHS (Janson)








New Record Album: "Refugee from Socialism" - Dedicated to Cloudy Future of America
BIBLES
Gifts
Pro-Life Videos
Pro-Life Books
Dr. Bernard Nathanson
Social Issues Documentary Videos
Creation vs Evolution
The Creature from Jekyll Island
Devil - Satan
Freemasonry
Gods of the New Age
Prophecy
Rock Music, MTV, Hollywood and Satan
A CELEBRATION OF PADRE PIO - PRAY, HOPE, AND DONÕT WORRY

Spanish Edition - HOMENAJE AL PADRE PIO

PADRE PIOÕS SAN GIOVANNI - ÒI CAN REFUSE NO ONE'

THE LIFE OF SISTER FAUSTINA - THE APOSTLE OF DIVINE MERCY

Spanish Edition - LA HISTORIA DE SOR FAUSTINA

SISTER FAUSTINA - THE PROMISE OF MERCY

THE BEATIFICATION OF SISTER FAUSTINA - JOIN THE CELEBRATION

MEDJUGORJE - THE MIRACLES AND THE MESSAGE

THE BEATIFICATION OF PADRE PIO

. FROM SAN GIOVANNI TO HEAVEN - ON CANONIZATION OF PADRE PIO
New Video on
Canonization of Padre Pio
FINEST CATHOLIC MARIAN VIDEOS
OF MARIAN COMMUNICATIONS AND DREW MARIANI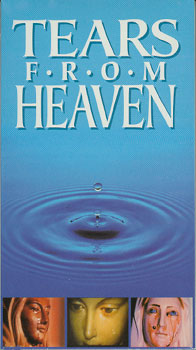 Tears From Heaven
Available in DVD
From all over the world, witnesses say that paintings, statues and icons are weeping tears and tears of blood.
What do these "lachrymations" portend and why are they occurring at this specific moment in history? An excellent video.
Very appropriate for our time. VHS Video.
DVD price: $14.75
Order Here

Marian Apparitions of the 20th Century
Available in DVD
Worldwide, reports of apparitions of Jesus and Mary are surfacing. Discover in this award-winning documentary some of the most fascinating apparitions of the 20th century and the urgency of the message Heaven is giving to the world. If men only knew what eternity is, they would do everything in their power to change their lives." Fatima, Portugal Deeply rooted in humanity's history, the Blessed Virgin Mary has been making repeated visitations throughout the world, particularly in the latter part of the 20th century, to warn us that we are on the brink of destruction unless we heed her messages for repentance, prayer, conversion, fasting and reconciliation. Is humanity on the verge of self-destruction? Can the world be delivered from the fear engulfing it today? Meet Father Rene Laurentin, Father Stefano Gobbi, Father Michael McDonagh and Father George Kosicki as they inspire us with their insight on the times we are facing.
DVD price: $14.75
Order Here

Time for Mercy
Is God in His infinite mercy increasing the intensity and severity of His warnings in an effort to draw souls back to Him before it is too late? Join narrator Joe Campanella as we explore the amazing apparitions of Jesus to St. Faustina and the powerful revelation of Divine Mercy. VHS Video.
DVD price: $14.75
Order Here

Betania, Land of Grace
Available in DVD only
Perhaps one of the most amazing apparitions of our day. Here, reports of unexplained healings, conversion, and mystical phenomena abound. Included in this incredible video is a Eucharistic miracle caught on video tape, an interview with one of the most powerful mystics of the century, and an apparition of the Blessed Mother.
Incredible reports of miraculous healings, unexplained phenomena and visitations of the Blessed Virgin Mary in South America are reaching the world, where thousands are claiming to have witnessed her appearances on a small farm in Betania, Venezuela. She has come with a powerful and urgent message of peace and reconcilialion for mankind. VHS Video. 58 Minutes.
DVD price: $14.75
Order Here
A Call to Holiness
Experience the healing prayer and teaching of Fr.Jozo Zovko. VHS Video.
DVD price: $14.75
Order Here
Photos from movie "The Passion of the Christ" directed by Mel Gibson
HLI Pro-Life Material - Pro-life Books, Audio Tapes, CDs, DVDs and Videos
THE BOOK OF DESTINY By Fr. H.B. Kramer
CATHOLIC PROPHECY THE COMING CHASTISEMENT By Yves Dupont
FORTY DREAMS OF ST. JOHN BOSCO By St. John Bosco
HISTORY OF ANTICHRIST By Fr. P. Huchede
LIFE OF ANNE CATHERINE EMMERICH By V. Rev. C. E. Schmoeger, C.SS.R.
THE PROPHECIES OF ST. MALACHY
PROPHECY FOR TODAY By Edward Connor (compiler)
THE PROPHETS AND OUR TIMES By Fr. R. Gerald Culleton
THE REIGN OF ANTICHRIST By Fr. R. Gerald Culleton
Divine Mercy and Sr. Faustina (Videos and Books)
Padre Pio (Videos)
Medjugorje - The Queen of Peace (Videos, Books and Audio Tapes)
Prophecy of The Third Secret of Fatima
The Kingdom of the Bride
The Reign of the Antichrist - DVD
The Reign of Antichrist - Book
BIBLES
Text of The Third Secret of Fatima - Complete Report
Books and Videos on Padre Pio
Videos and Books on Sr. Faustina and Divine Mercy plus Diary of Sr. Faustina
CATHOLIC BIBLES (Family Bibles, Spanish Bibles, Church, School and Study Bible Edidions) FBP
Bishop Fulton Sheen - Audio Tapes, Videos and Books
THE DOUAY-RHEIMS BIBLE - Now in Larger Print!
Why Should You Read Only the Douay-Rheims Translation of the Bible?
1 Corinthians 1: 23. But we preach Christ crucified. 2 Corinthians 5: 15. And Christ died for all: that they also who live may not now live to themselves, but unto him who died for them and rose again.
Free Free MP3 music downloads and items with discount - discounted Prices

Free MP3 Christian Music Downloads of Catholic Songs
Home Page / Statues / Crucifixes / Catholic Resources / Catholic Videos / Catholic Books / Catholic Audio Tapes / Christian Music / Catholic News / Angels / Anti-Semitism / Animated 1 / Animated 2 / Animated - The New Testament / Animated - The Old Testament / Apparitions of Blessed Virgin Mary / Apologetics / Art Gallery / Audio Tapes / The Beatification of Padre Pio / Hilaire Belloc / Bible / Bibles / Books on Bible / Bishop Fulton Sheen / Books / Books on Divine Mercy / A Catholic Theme Park / Children and Youth - Animated / Church Documents / Church History / Creation vs Evolution / The Creature from Jekyll Island / Devil - Satan / Catholic Family Resources / Divine Mercy / Diary of Sister Faustina / Dr. Bernard Nathanson / Errors - Problems of Modern Times / Eucharist and the Mass / Family and Marriage / Fr. Aloysius Ellacuria / Freemasonry / Garabandal / Gifts / Gods of the New Age / Global Tyranny / Health / Hell, Heaven and Purgatory / Home Schooling / John Paul II Collection / Joan of Arc / Journeys of the Soul / Latest Message / Marianland / Marian / Marian Videos / Mariology / Charismatic / Marx and Satan / Medjugorje Miracles and the Message / Miracles in Catholic Church / Money System / Mother Teresa / Music / MP3 - Free Music Downloads / Yoga (The New Age) / One World Government / Padre Pio (Videos) / Padre Pio (Books) / Pious Publications / The Priesthood / Pro-Life Videos / Pro-Life Books / Prophecy / Prophecy of The Third Secret of Fatima / Rafael's Art Gallery / Prof. Libor Brom / Religious Education-Adult / Religious Education-Grade School / Religious Education - High School / Rock Music, MTV, Hollywood and Satan / ROSARY / Saints Part 1 / Saints Part 2 / Saints Part 3 / St. Patrick: Apostle of Ireland / Scott Hahn, Kimberly Hahn and Bishop Sheen / Shocking Videos / Spanish Videos / Spiritual Life / Sr. Faustina / Stigmata and Stigmatists / Theology / True Church and Bible / The UN's Crusade Against God and Family / Vatican II / Videos - Main Section / J. Paddy Nolan / Wayne Weible - Medjugorje Apparitions - Medjugorje / Latest news / Sin and Repentance / Fr. Faber / Marian Videos and DVDs as Seen on EWTN - Catholic TV Network by Mother Angelica / Mother Teresa /