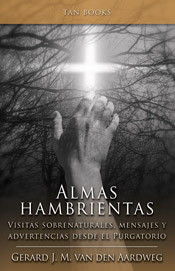 Almas hambrientas: Visitas sobrenaturales,
mensajes y advertencias desde el purgatorio
Best-selling Hungry Souls now in Spanish!
By: Gerard J.M. van den Aardweg
Fecha de publicación: Otoño 2011
Publication Date: Fall 2011
Después de una semana de oír ruidos fantasmales, el espíritu de su madre, muerta por tres décadas, visita a un hombre en su casa, le reprocha por sus vicios y le pide que ofrezca unas Misas en su nombre. Entonces ella pone su mano en su manga, dejándole una huella de quemadura imborrable, y se va
Un ministro luterano, no creyente en el purgatorio, recibe repetidas visitas a su pequeña iglesia alemana de "demonios" que vienen a pedirle oraciones, consuelo y refugio. La compasión por estas pobres almas supera la incredulidad y él se pregunta qué clase de almas pueden pertenecer a Cristo, pero todavía sufrir
Almas Sedientas cuenta estas historias y otras historias más, verificadas por la Iglesia, de visitas de almas del purgatorio a personas aquí en la tierra. Acompañando a estas historias hay imágenes del "Museo del Purgatorio" de Roma, que contienen reliquias de los encuentros con estas almas, incluyendo numerosas evidencias de las impresiones de manos quemadas en ropa y libros; huellas de quemaduras que no se pueden explicar por medios naturales, ni duplicar por medios artificiales. Fascinante!
After a week of hearing ghostly noises, a man is visited in his home by the spirit of his mother, dead for three decades. She reproaches him for his dissolute life and begs him to have Masses said in her name. Then she lays her hand on his sleeve, leaving an indelible burn mark, and departs...
Hungry Souls recounts these stories and many others trustworthy, Church-verified accounts of earthly visitations from the dead in Purgatory. Accompanying these accounts are images from the "Museum of Purgatory" in Rome, which contains relics of encounters with the Holy Souls, including numerous evidences of hand prints burned into clothing and books; burn marks that cannot be explained by natural means or duplicated by artificial ones. Riveting!
Item No. 1447
ISBN: 9780895559098
Price: $15.95
ORDER HERE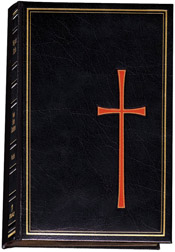 Sagrada Biblia - Spanish Bible
By: Felix Torres Amat
La Sagrada Biblia - Por: Felix Torres Amat. Nueva Edición Guadalupana. Para estudio. Traducido del Latino. Edición 1950. Los puntos principales de la escritura se igualan a la traducción de Douay Reims en inglés. Cuero negro, bordes dorados, cubierta en relieve. Biblia Católica en español de lujo. Tamaño fácil de utilizar para estudiar en casa y en la iglesia, fácil de leer, en papel de biblia de la alta calidad hace de esta, una de las ediciones más populares de la Biblia. Imprimátur, una cinta para marcar, y una página a todo color de presentación. Las páginas a color contienen capillas católicas importantes, los 15 misterios tradicionales del Rosario y el Vía Crucis.
Spanish Bible By: Felix Torres Amat (Holy Bible - New Guadalupana Study Edition) Translated from the Latin Vulgate. 1950 edition. Main points of Scripture match the Douay Rheims translation. Black bonded leather, gold edges, embossed cover. Deluxe Catholic Spanish study Bible in hand-sized edition. Easy-to-use size for Bible study at home and at church. An extremely legible type-setting on high quality Bible paper helps make this one of the most popular Bible editions ever. Additional features include an Imprimatur, gilding on all page edges, a marker ribbon, and a full color presentation page. Color pages bring to life important Catholic shrines, the 15 Traditional Mysteries of the Rosary and the Stations of the Cross.
Item No. 2200
Price: $39.95
ORDER HERE
Catholic Books and Booklets in Spanish Language
Las Maravillas de la Santa Misa
La Confesion Los Frutos de su Practica
Confesion de un Catolica Romano
Almas hambrientas: Visitas sobrenaturales,
mensajes y advertencias desde el purgatorio
Las Maravillas del Santo Nombre